Ultrasonic Wire Drawing – Ultrasonic Tube Drawing
Aktive Arc Ultrasonics has wide ranging experience in development of custom ultrasonic wire drawing and ultrasonic tube drawing equipment.
Research shows that ultrasonic energy can provide these distinct benefits:
Draw force can be reduced from 15% to 60%.
Draw speed may be increased from 20% to 200% or more depending on materials and conditions.
Surface finish can be improved.
It can eliminate stick-slip action (known as chatter).
Example design concepts in the public domain: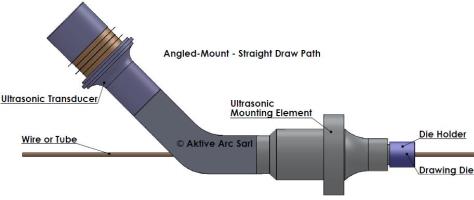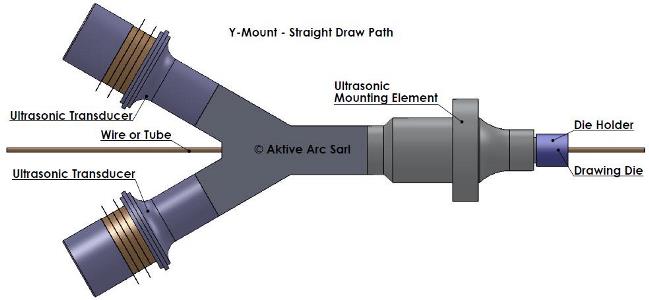 Application of ultrasonic vibrations to most any metal forming process can offer these benefits to the process and finish.
Reduced friction between die and workpiece
Die temperature reduction
Reduced forming forces,
Reduced flow stress
Improved surface quality
Superposition of ultrasonic vibration on metal forming has been studied since the 1950s and key work was done on ultrasonic die vibration dating back to the 1960s. There are many research publications that review the use of ultrasonic energy in forming processes, including wire and tube drawing. Most studies describe longitudinal vibrations superimposed on the metal forming processes however there are studies and cases where it is advantageous to vibrate the die in a radial mode. In tube and wire drawing when sufficient ultrasonic energy is applied to a die, the drawing forces can often be decreased in the range of 15% to 60%.
The Aktive Arc design team can adapt a wide range of die and die holders to our ultrasonic systems. We can implement designs using longitudinal vibrations, radial vibration, or a combination of the two.
Please Contact Us and lets us know how we can help you.